LGBTQ2S+
Safety, inclusion and accessibility is a priority for all students. TRU is working towards advocacy and anti-discrimination efforts for the LGBTQ2S+ community on campus and beyond.
No matter how you identify in regards to the gender identity or sexuality spectrum - which includes lesbian, gay, bisexual, trans, queer/questioning and two-spirit (LGBTQ2S+) individuals - whether you are questioning, curious, coming out or letting someone in – Student Services can offer a space for support, discussion and reflection.
Resources
Campus Resources
The Wellness Centre
The Wellness Centre strives to build a respectful and welcoming environment for all students, staff and faculty. The team aims to enhance well-being and foster a sense of community through one-to-one health consultations, workshops, and campus-wide events. The team acknowledges and recognizes that every person has a right to assess and determine their own sexuality, gender identity, and gender expression. Individuals of any and all genders, including gender non-conforming or gender expansive folks are invited to visit this safe and inclusive space to participate in the wide array of educational programming.
Counselling Department
The Counselling office is a respectful, safe and affirming atmosphere for students of all races, ability, ethnicity, sexual orientation, gender identity, religions, age, culture and socioeconomic status. Individual counselling sessions can help find solutions and develop coping strategies for stress, anxiety, depression, grief and other personal issues.
Sexualized Violence Prevention and Response
The Sexualized Violence Prevention and Response office recognizes that because of ongoing discrimination and oppression, LGBTQ2S+ people may experience higher rates of poverty, stigma and marginalization. This may place members of the LGBTQ2S+ community at higher risk of experiencing sexualized violence and additional harm while attempting to seek support and/or justice.
Regardless of when the violence occurred or whether a victim/survivor is interested is any formal reporting processes, the Sexualized Violence Prevention and Response Manager (SVPRM) can provide the following:
• Emotional support and safety planning
• Academic accommodations and emergency housing
• Information about reporting options
• Support through reporting processes if desired
• Connection to campus and community resources
• Support to those providing care to victim/survivors

If you make an appointment, you are welcome to bring a support person. You do not have to disclose an experience of violence in order to connect, and curious parties are welcome to pop by and ask questions without divulging personal experiences.
ABOUT AMBER:
It may be useful to know that Amber Huva is a white, straight, cisgender woman. She has been working in the anti-violence field for close to fifteen years, primarily with adults and children who have experienced violence but folks experiencing homelessness and concerns around mental health and substance use.
Amber has a BA from TRU (2005) and an MSW from the University of Victoria (2016). Amber has received formal training in supporting LGBTQ2S+ victims/survivors who have experienced violence through Interior Community Services Safe Spaces program.
Amber understands that reaching out for support is one of the bravest, most terrifying acts a victim/survivor may take, and deeply recognizes the importance of providing a respectful, informed, caring response. She also knows that she may not be the right fit for everyone, and is happy to connect folks to the support that feels most valuable to them.
If you would like to provide any feedback or work alongside the SVPR team to develop safer services and programming, please contact Amber Huva at ahuva@tru.ca.
For more information, please visit tru.ca/sexualviolence.
Additional resources: Rainn.org: LGBTQ Survivors of Sexual Violence
Medical Centre
Dr. Lisa Harvey provides trans-competent medical care and offers services to the LGBTQ2S+ community – and works at the TRU Medical Clinic every other Friday. Contact the Medical Centre to make an appointment at 250-828-5126 or stop into Old Main 1461.
Dr. Harvey is also available at an off-campus clinic. No referral is necessary; call 250-828-8080 for more info.
Student Affairs
The Office of Student Affairs provides advice and assistance to students on matters related to academic integrity, academic appeals, student emergencies, student non-academic misconduct, and student off-campus safety and travel. Case Managers can also guide students to inclusive resources and assist with updates regarding preferred name changes on institutional documentation.
Early Alert
The cozy Early Alert office is a safe space for all students on campus. Pamela Fry provides confidential and compassionate support in one-on-one meetings designed to be meaningful, productive and inclusive.
All Gendered Washrooms
All gender washrooms are essential to ensuring that campus feels welcoming, accessible and safe.
Access to private washrooms decreases fear and anxiety and allows any individual - no matter their gender identity or expression - the autonomy to choose whichever space suits best.
Community Resources
Kamloops Pride
Safe Spaces
Trans Lifeline
PFLAG Kamloops
Interior Community Services Safe Spaces Program
Academic Courses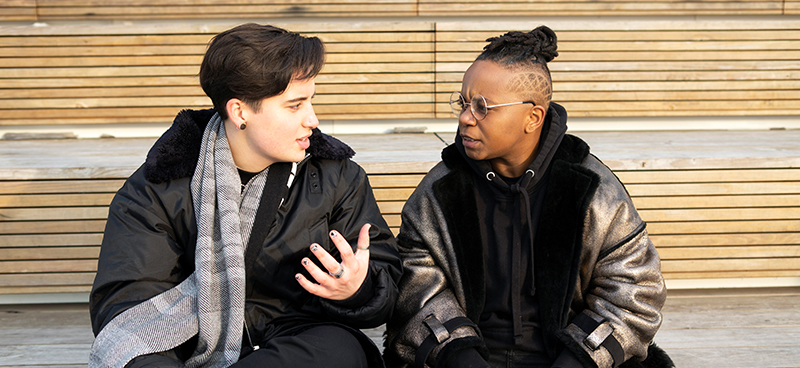 #howdoIally
Being an ally of the LQBTQ2S+ community requires action, visibility and reflection. Allyship is an ongoing work in progress - and it's an inside job.
recognize your privileges and internalized biases
acknowledge the intersectional aspects of race, class and religion and understand how that can impact an individual's ability to "come out."
question or call out homophobic rhetoric, commentary and humour
avoid assumptions about sexual or gender identity
ask which pronoun a person would prefer
consider the individual's safety - never out someone
resist the urge to encourage an individual to come out before they are ready as there might be internal and external factors that you don't understand
use gender inclusive terms: "Hello, friends" or "Good Morning, all."
study LGBTQ2S+ history before attending Pride events as understanding context is essential when you are a guest in queer spaces
You Can Play Project
Locker rooms should be safe and sports venues should be free from homophobia. Athletes should be judged on talent, heart and work ethic, not sexual orientation and/or gender identity. The You Can Play Project ensures that LGBTQ athletes and allies teaming up for respect. TRU WolfPack contributed with their own message to ensure that student-athletes are supported on and off the field.
Photo Gallery of Pride Parade