Student Storyteller Squad
Meet the 2020-2021 Student Storyteller Squad! Writer & Storyteller Alicia Ashcroft has been working closely with the team, who range from new-to-TRU to nearly-graduated. These individuals are asking the question: when it comes to the student life experience, what kind of stories do we want to hear, and what stories do we want to tell?
2020-2021 Storytellers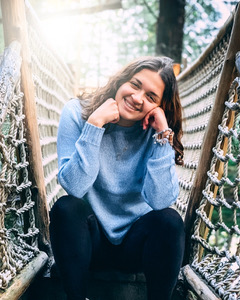 Hi everyone! My name is Manuela Ceballos, my pronouns are she/her/hers, I graduated in Colombia in 2018 from the Marymount School, and I'm currently a 3rd year student at TRU doing a major in Psychology and a minor in Marketing. I'm very excited to say that this year I'm part of the Storytelling Ambassador program with the Faculty of Student Development. I love being engaged at TRU because it makes me feel more connected to the community I'm part of and being a storyteller has aloud me just that, to stay connected and to be able to share experiences and advice with other students that might be going through similar experiences that I've been through. I enjoy graphic design and sharing content through social media; in this interconnected world social media is one of the best resources we've got and I enjoy taking advantage of it as much as I can. Every day I'm learning more and more and with the Student Storytellers I have been able get out of my comfort zone and build a voice through designing posts for the Student Life Facebook and Instagram accounts, writing blogs, and hosting Instagram lives (something I thought I was never going to be brave enough to do).
---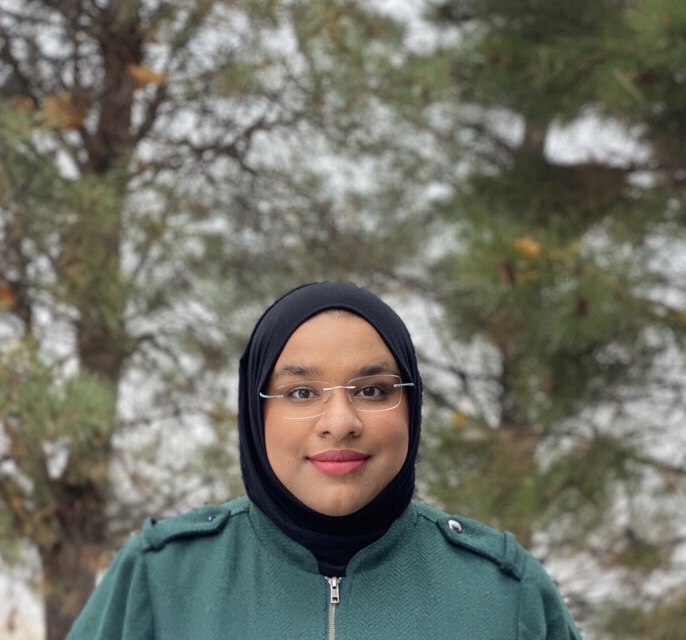 I like to describe myself as an aspiring human rights and climate change activities. I am a Bachelor of Science in Nursing student and graduated from South Kamloops Secondary School. I love the way nurses pave the way for patient care, nursing standards, research and advocacy. I also love being a part of this amazing community of student nurses and faculty at TRU. My dream job is one where I can have an impact on the world and help empower others. When I'm not buried deep in my textbooks, I love to read, play tennis, ride horses, hang out with my mom and friends, and dedicate my time to various volunteer causes. I am also a big fan of live theater and would love to see the Lion King performed on Broadway one day. My favorite part of being a student storyteller is how I get to explore my interests and give back to the TRU community. We can all connect through experience, and I like being able to turn my everyday student experiences into content that allows me to connect with other students. The advice I would give to other students would be to be proactive. Prevention is always easier than cure, and if you address problems as they come up, it's much easier to be productive.
---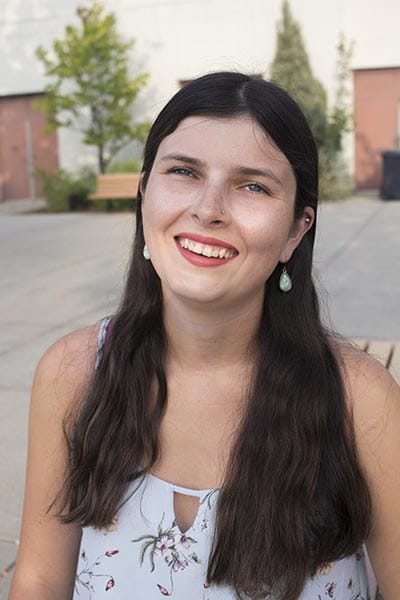 I am a tourism management major and theatre minor. Also a former Study Abroad ambassador, I have an appetite for adventure and experience. That hunger took me to Australia, where I learned to surf. I am passionate about accessibility and self-advocacy, which led to some of my biggest accomplishments: being cast in some significant roles in TRU's Actors Workshop Theatre productions of A Midsummer Night's Dream, Concord Floral and Drinking in America.
---
2019-2020 Storytellers
Before I graduated from Kamloops School of the Arts as valedictorian, I attended Nanaimo District Secondary School (NDSS ), Outreach Wellness Learning (O.W.L )and Learn @ Home.
Currently, I am studying theatre mostly because I haven't declared a major yet. I am hoping to minor in sociology or criminology. Although, if I'm honest, I'm overwhelmed at all the possibilities to choose from.
As for a dream job, I would love to work on Broadway through the theatre company Deaf West as an interpreter/voice for deaf actors in musicals and plays.
I enjoy roller skating, rock climbing, watching horror movies, acting, singing, reading scientific studies, watching surgery videos, learning American sign language, and painting. I also dabble in poetry, but mostly because I think the title of a Poet is really cool.
My advice to other students would be to take care of yourself. You know yourself more than anyone does, and your health is more important than any class. Also, do what you love, because soon you'll find yourself stuck in a mediocre job with decent pay wondering where all the time went, and you'll wonder what would have happened if you had followed your dreams- Don't let yourself regret your choices, its better to know than to live with a cloud of doubt over you.
My favorite quote is, "Say, brother, give me a lyre and a campfire and an open field at night give me the sky that you can't buy or sell at any price. And I'll give you a song for free 'cause that's how life oughta be! So that's how I'm livin' it!"
---
I was homeschooled from K-12 by my mother, and never actually attended a public high school! After taking some classes at my hometown college (CNC in Prince George), I decided to come to TRU! Now I'm in my fourth year of a BA in Communications, stream in Public Relations, with a minor in Marketing. My dream job is to be an editor for a publication that breaks down complex and important information (such as political data or health science) in a way that general audiences find appealing and comprehensible.
When I'm not reading textbooks, I love to curl up with my cat and a good book, test new recipes or gather my friends for a lively game of Dungeons & Dragons. The best advice I have for new students is to always ask for help when you're confused or overwhelmed, or even when you think "there has to be an easier way!" You'd be amazed at how many services TRU has available for everything from making sense of your textbook to managing your schedule. Finally, I want students to know that the people who provide that help are super proud of you for having the courage to ask. I have so much respect to students who advocate for themselves. I know it takes courage to admit that you can't do something on your own, or even just to admit that you have room to improve, but please know that the only thing support staff think when you do is, "How brave! I'm so proud of this student and I can't wait to see them succeed."
---
I'm an International Student from Zimbabwe, currently in my 3rd year of a 4th-year science degree majoring in Cellular and Molecular Microbiology.
I plan on furthering my education in graduate school. With the knowledge that I've acquired from my studies, I want to assist in the prevention of pandemics in 3rd world countries - and then the world over. I believe that the improvement of health care standards is one step towards making a positive difference in the world.
I've always had an appreciation for performing arts, music, theatre, dance and spoken word. I consider self-expression to be a therapeutic resource, and it has contributed a lot to who I am today!
If I could give any advice to another student, I'd tell them to enjoy every second of life - the good and bad times - because moments pass and cannot be relived. You could meet a person once and never cross paths with them again; make sure they feel loved and appreciated. It doesn't matter who they are or where they've come from, we have our humanity in common, and that's the tie that binds us.
Always try to see the good in every situation, when life knocks you down, get back up and finish the race. Failure is not the end - in fact, we learn by failing. Above all, it costs absolutely nothing to be kind!
---
I'm currently a full-time sociology major about to complete my degree. I'm excited to be graduating in April and have set my sights on graduate school. I'm applying to the University of Alberta for Gender Studies, Human Rights and Social Justice in September 2020.
I wish to bring that knowledge and put it back into the community on campus by way of LGBTQ2S+ saf(er) spaces for students, staff and faculty alike.
Last year I was honoured to serve on the Kamloops Pride board as Vice President, and am currently running for President. I feel that I am my best self when I am of service to others and wish to support and uplift folks that need a little extra love.
In my spare time, I love to throw fabulous theme parties, dancing the night away with my beloved friends, painting, cooking and singing in the Pride Choir.
I want to remind students to remain true to their journey, and if you encounter something that doesn't align with that truth, then say something; you are worth standing up for!!
One of my favourite quotes is from the film Rocky Horror Picture Show - Dr. Frank N Furter says, "Don't dream it, be it," and I couldn't think of better advice.
---
I am Dakelh (Carrier) and a member of the Lusilyoo (frog) Clan from the northern Interior of BC. I attended high school at Nechako Valley Secondary in Vanderhoof, BC. In 2016, I graduated from Simon Fraser University with a Bachelor of the Arts, majoring in criminology and a minor in First Nations Studies.
Today, I am in my third year of Law school at Thompson Rivers University and am a Juris Doctorate (JD) candidate for 2020. After completing my JD, I would like to return to the north to work with First Nations communities in achieving recognition of Dakelh jurisdiction as a separate legal framework. This would be to implement, conduct and resolve justice issues in a manner that follows Indigenous laws and principles.
Since moving to Kamloops to attend Law school, I have gained an appreciation for the area, and acknowledge the privilege of learning on the traditional and unceded lands of the Secwepemc people. Some of my hobbies include spending time with my family and friends, travelling, camping, and attending a range of community and school events.
I would advise other students to always be open to all possibilities and don't be afraid to step outside of your comfort zone. Learn to have the courage to speak up for yourself and take care of yourself on a daily basis.
---
I graduated from Valleyview Secondary School here in Kamloops in the Class of 2016.
I've just started my second year in the Bachelor of Tourism Management. My dream job is to open and manage an Indigenous Cultural Center that highlights the rich, diverse cultures of BC's Indigenous people! I believe that tourism has an awesome duality of being an inclusive, educational and respectful way for non-Indigenous people to learn about our culture, as well as being a powerful way for Indigenous people to reclaim our stories and revitalize and preserve our diverse cultures.
I love photography - portraits and landscapes/nature are probably my primary focuses. And beading - my grandma taught me how to loom bead a couple years ago and I've just recently picked it up again, brick stitch is the next beading style I'm challenging myself to learn.
When I need a break from the textbooks, I always make sure to have an extra book or two handy. The last book I read was "In My Own Moccasins: A Memoir of Resilience" by Helen Knott, who is a remarkable Indigenous writer, activist, speaker, and just a rad woman whom I look up to so much! The next books on my list are "From Where I Stand: Rebuilding Indigenous Nations for a Stronger Canada" by Jody Wilson-Raybould and "Heart Berries" by Terese Marie Mailhot.
I would advise students to do these three things:
1) Leave at least 20 minutes before you think you need to – being on time is the new late!
2) Call your grandma
3) Don't touch your phone until you're out of the house - or at least out of bed
(the amount of times I've been almost late due to mindless scrolling is. too. real.)
My all-time favourite quote that has gotten me through all the highs and lows:
"I can be changed by what happens to me, but I refuse to be reduced by it" - Maya
Angelou. I love this quote because its applicable to almost every situation ever,
and it can carry different personal meaning for everyone.
And a new favourite quote (out of many) from Helen Knott's book In My Own
Moccasins: "Healing yourself is a revolutionary act". I've found so much power
and peace in this quote and it's so incredibly ground.