Angie Wong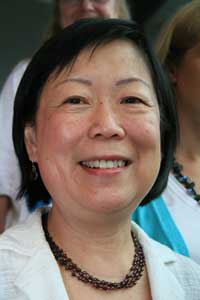 Angie Wong, Ph.D., is Professor Emeritus and former Director of the Centre for Distributed Learning and Instructional Design Group at the University of Saskatchewan.
Angie is engaged in collaborative research in blended learning and the assessment of experiential learning. Both interests support her personal belief that individuals, within both formal and informal contexts, can learn throughout their lives in a variety of ways. She was also coordinator of the Online Master of Continuing Education program and instructor of the program's Workplace Learning Internship.
Angie has been an advocate for prior learning assessment and recognition and the application of its philosophy to curriculum and faculty renewal, policy development, and research. She has partnered with international colleagues from Chile, China, Mozambique, Palestine and Thailand in research and development projects. Angie has enjoyed mentoring both students and colleagues during her 30 years as a faculty member and associate dean of research. She currently resides on Gabriola Island, B.C. but travels extensively on consulting projects.