Food for U
The Den (pick-up only), U&M Deli and Scratch Café are open.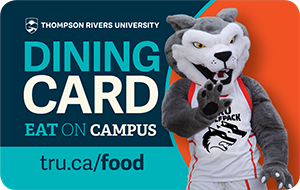 Dining Card
A convenient way to eat on campus.
» Learn More
Daily features
Savour the savings as you discover daily deals at popular outlets.
» Learn More
Other food and drink options
News Nibbles
Tell us what you think
TRU Food Services strives to work collaboratively with the campus community, seeking constructive feedback as the best way to move forward in achieving the university's goals. It is always looking to improve services to better meet the needs of campus.
Contact by Email
---