Sexualized Violence Prevention & Response
Quick Exit
---

Tuesdays
January 21 - April 7
4:45pm - 6:15pm
Sessions will include information sharing, activities and facilitated discussion. All participation is voluntary.
Session topics will be chosen by the group members, and could include some of the following:
"Sexualized Violence 101": definitions, prevalence, our approach to support work
Common responses to violence (trauma/brain impacts, resistance) and ways to manage (grounding, "healthy"/"unhealthy" ways of coping)
Honoring Resistance
Myth Busting
Self care
Getting the right support (what's available, what to expect in counseling, what to expect from a counseling relationship or helping professional)
Healthy relationships/boundaries
Other topics group members identify!
If you are not a woman-identified student but are interested in this kind of support, please connect with Amber. We are working on building appropriate and comfortable spaces for all kinds of survivors.
To sign up, please complete the intake form.
Email Amber Huva ahuva@tru.ca with any questions.
---
Are you a student with a disability?
Through a civil forfeiture grant, Kamloops Sexual Assault Counselling Center (KSACC) has received funding to continue an educational project in partnership with TRU. Building on project work completed in 2016/2017, this year's initiative will engage with students who identify as having a disability, as well as TRU staff and faculty to develop sustainable practices around sexualized violence prevention and to provide education tools unique to each community's needs and experiences. These efforts support TRU's ongoing commitment to raise awareness and educate the campus community about sexualized violence (Sexual Violence Policy BRD 25-0). Amber Huva, Sexualized Violence Prevention and Response Manager and KSACC's Stopping the Violence Counsellor Kate Cairnie are excited to facilitate this collaboration, which will run until May 2020. If you are a student who identifies as having a disability, we invite you to consider filling out this short survey. Participants will receive a $10 gift card for Tim Hortons.
If you are a TRU Faculty or staff member, please consider filling out this brief survey:
complete the staff & faculty survey
All contributions to this conversation are most welcome. If you would like to know more information or participate in either project, please contact
Kate Cairnie, KSACC Counsellor and Project Facilitator: 250-299-8792, kate@ksacc.ca or Amber Huva, TRU Sexualized Violence Prevention and Response Manager: 250-852-7179, ahuva@tru.ca
---
Learn about creating safer and respectful environments on our campus and beyond
By completing this short course, you will gain information and skills to apply as you move through university and the rest of your life. Participate before October 26th, 2018, and you can be enetered to win prizes. Click here for more information.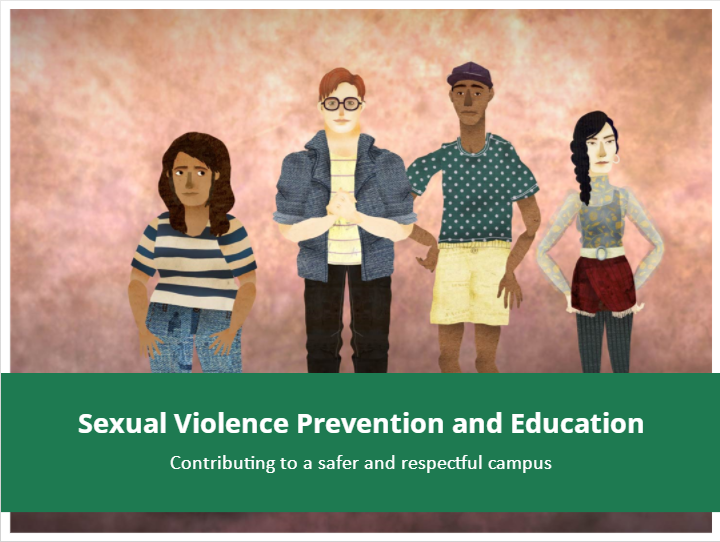 ---
#IBelieveYou
WolfPack Volleyball initiated a student driven public service announcement as part of a partnership between TRU and the Kamloops Sexual Assault Counselling Center.
---
You are not alone
If you have been sexually assaulted it is important to know and understand that you are not alone and that it is not your fault. There is no behavior, manner of dress, or situation that justifies sexualized violence. If you are a victim/survivor of sexualized violence, you have done nothing wrong and you are not to blame.
---
Quick Exit
Click the Quick Exit bar at the bottom to leave this page quickly, and make it difficult for someone to know you were here.